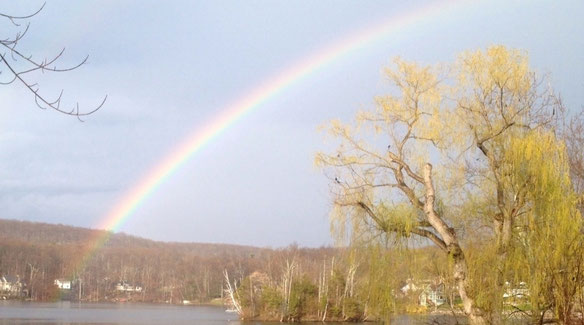 ---
Click below to become a member of Rainbow Lake!
Click below to contribute to Specific Projects!
---
Announcements Around The Lake
---
The annual RLA picnic will be held on Saturday, August 3, at Crescent Beach, from 1:00 to 6:00  (rain date: Aug. 4). All RLA members are invited to come out & meet your neighbors! There will be kids activities, swimming, music, a 50-50 raffle, & stimulating conversation. The RLA will provide hamburgers & hot dogs, corn on the cob, & beverages (water, soda, beer, wine). Please bring a side dish &/or dessert. We hope to see you there!
---
Pretty Saro, winner of the 2018 Telefunken Bank Competition at Podunk Bluegrass Festival, will headline Wataba Lake Fest on Saturday, September 21, at Hippie Hill, 25 Clearview Drive, Ridgefield. 

Pretty Saro burst onto the Boston bluegrass scene in early 2016, shaking up the definition of American roots music. Since then the four-piece string band has been crafting their invigorating blend of contemporary songwriting and modern sensibilities into a sound that is uniquely their own. The band draws their inspiration from acoustic giants such as Nickel Creek, Crooked Still, Hot Rize, and John Hartford to name a few. 

Wataba Lake Fest, now in its 5th year, will run 12:00 noon to 6:00 PM. It's an afternoon of music, family fun, childrens' activities, and food in the laid-back neighborhood of Rainbow Lake. 

Local bluegrass band Angry O'Haras will open for Pretty Saro. Rounding out the festival will be children's music from Kevin McCarthy and Jennifer Barrett, and a performance by Wataba's perennial favorite, The Flubber Brothers.
---
The Spring Clean-up was held on Saturday, April 27, 10 a.m., at Crescent Beach. Thanks to all those who braved the nasty weather!
---
The annual RLA General membership Meeting was held on Saturday, May 11, 11 a.m., at the Ridgefield Recreation Center. Attending RLA members approved the 2019 budget unanimously. Mike Delaporte was elected to the RLA board, and Doug Carroll & David Sarath were elected to another term. Congrats! Thanks to Kristin Drobney for her hard work as a board member for the past few years.
---
The RLA had its final work detail of 2018 on Saturday, Dec. 1. We moved the boat rack on Lakeside Beach & replaced the old boards on the dam. Thanks to everyone who chipped in!
---
Thanks to RLA members Pilar & Rob DeRoma for hosting the 2018 Holiday Party for the second year in a row! 
---
The annual RLA tag sale was held on Saturday, October 13. Almost $1,400 was raised! Thank you to Chris & Jana Williams for hosting and to all those who volunteered their time helping out!! 
---
Thanks to those who turned out for the RLA horticulture cleanup at Lakeside Beach on Saturday, September 22. We pulled weeds & planted flowers, much like we did last year at Crescent Beach. Here are a couple of photos . . .
---
The 4th annual Wataba Lake Festival was held on Saturday, September 15, at "Hippie Hill."  We raised more than $660 for the RLA while having a blast. Thanks to Roger Grannis & Kevin McCarthy for organizing another successful festival!!
---
Rainbow Lake resident & official RLA animator Chris Williams has graciously designed some very cool Rainbow Lake merchandize that is now available for purchase, with all proceeds going to the RLA. T-shirts, coffee mugs, car magnets & other groovy swag can be found HERE. 
---
---
---
An important reminder to Rainbow Lake residents:
When raking or blowing leaves, please DO NOT dispose of your leaves in the lake. 
Here is a link to some lake living tips that address this & other common lake problems:
---
Vendor Discounts are available for RLA members from local businesses.
For instance, we offer a special deal on heating oil from Standard Oil: for RLA members only, there is a 20 cent per gallon discount, as well as a 20% discount for service plans. Call Standard Oil at 800-822-3835 and ask to speak with either Debbie or Darryl.
If you have a business or know of one that might be interested in offering discounts to RLA members, please contact Patsy Sabido at patsysabido@gmail.com.
For more deals please visit the "Vendors Discount" page.
---
Check out this video from the Rutgers Agricultural Experiment Station detailing how to make an artificial floating wetland. 
LEFT: Janine Ranieri inserts plants into our own floating wetland. 
RIGHT: Doug Carroll & John Keegan (hidden) row the wetland out into Rainbow Lake. 
BELOW: A heron hangs out on the floating wetland.
---