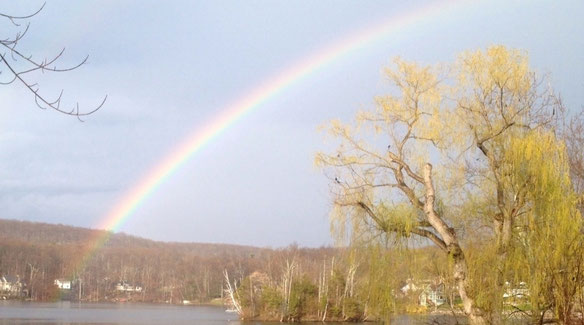 ---
Click below to become a member of Rainbow Lake!
Click below to contribute to Specific Projects!
---
Announcements Around The Lake
There will be an RLA horticulture cleanup at Lakeside Beach on Saturday, September 22, at 10:00 a.m. We will be pulling weeds & planting flowers, much like we did last year at Crescent Beach. We hope you can join us in this effort to beautify Lakeside Beach!
---
All boats without a 2018 RLA sticker will be removed from the beaches in the coming weeks & put up for sale at the upcoming RLA tag sale. If you are a current member & your boat does not have a tag, please apply it immediately. If you need tags, please contact the RLA using the "Contact" link on this page. 
Also, we need ALL boats removed form the beaches before the winter drawdown (late November) so that we can do work on the boat racks & beaches.
---
The 4th annual Wataba Lake Festival was held on Saturday, September 15, at "Hippie Hill."  We raised more than $660 for the RLA while having a blast. Thanks to Roger Grannis & Kevin McCarthy for organizing another successful festival!!
---
The annual RLA tag sale will be held on Saturday, October 13, starting at 10 a.m., at the Williamses' house at the corner of Bennetts Farm Rd. & Lakeside Drive. Any household items you need to get rid of--furniture, tools, books & CDs, kitchen items, boats, etc.--are welcome. Start organizing your stuff now & we will soon have instructions on where to drop them off.
---
The fall cleanup will be held at Crescent Beach on Saturday, October 27, at 10 a.m. Please join us in pulling in the docks and sprucing up the beach areas before winter sets in. All are invited!
---
Rainbow Lake resident & official RLA animator Chris Williams has graciously designed some very cool Rainbow Lake merchandize that is now available for purchase, with all proceeds going to the RLA. T-shirts, coffee mugs, car magnets & other groovy swag can be found HERE. 
---
The annual RLA picnic was held on Sunday, August 5th, at Crescent Beach. Thanks to all those who came out to show true community spirit!
---
On Saturday, 14 April, we had the Spring Beach Cleanup at Crescent Beach. We  painted the rafts/docks and a picnic table. The beaches look beautiful - we are ready for beach season! Please join us for the fall cleanup on October 27!
---
An important reminder to Rainbow Lake residents:
When raking or blowing leaves, please DO NOT dispose of your leaves in the lake. 
Here is a link to some lake living tips that address this & other common lake problems:
---
We are currently revamping our "Vendor Discounts" page. Check here soon for information about discount on a number of services, including trash pickup and home heating oil!
In the meantime, if you have a business or know of one that might be interested in offering discounts to RLA members, please contact Carolyn Griffiths at carolyn.joy.griffiths@gmail.com. 
Read more about it HERE:
---
Check out this video from the Rutgers Agricultural Experiment Station detailing how to make an artificial floating wetland. 
LEFT: Janine Ranieri inserts plants into our own floating wetland. 
RIGHT: Doug Carroll & John Keegan (hidden) row the wetland out into Rainbow Lake. 
BELOW: A heron hangs out on the floating wetland.
---